South production of 'Phantom' dazzles audience
Hang on for a minute...we're trying to find some more stories you might like.
THOMAS KEATING '13| Entertainment Editor
Note that this review was written after viewing the blue cast performance of "Phantom." The gold and blue cast alternate performances each day.
Before I begin, I'd just like to say that the production of a Grosse Pointe South musical is no simple endeavor. As a veteran of South's 2010 production of "Pippin", I am all too familiar with the long hours, stress and more long hours that go into a production. These students worked their derrieres off (I can say that one, right?), and deserve recognition for that work alone.
First of all, the acting was phenomenal. Brian Hall '12 delivered a particularly amazing performance as the Phantom, after whom the musical is named. The Phantom is a physically disfigured, musical genius who lurks around an opera house, tormenting the actors, musicians, dancers and managers that occupy the theatre. Hall's acting skills allowed him to walk the line between a manipulating villain and a misunderstood hero the Phantom must tread. His pained, yet sympathetic portrayal was worthy of this legendary role.
Christina Swanson's '12 performance of Christine was equally fantastic. Her mastery of ridiculously high notes was impressive to say the least. Swanson's performance was spot-on and deserved every bit of applause it recieved. Weronika Lukaszewska and Carolyn Alam, both '12, also held their own as the other female leads, Meg Giry and Madame Giry.
The actor who truly stole the show was Frankie Thams '15. As Raoul, Christine's love interest, Thams was well-prepared to play this powerful lead. But the most impressive part is that Thams is just a freshman. In South productions, it is rare for a freshman to get more than two or three lines. Frankie, however, earned a well-deserved place on the main cast, holding his own when singing with Swanson, as well as in an epic swordfight with Hall (did I mention there's an epic swordfight? Yeah, there's an epic swordfight).
Jack Dailey '14 and Dante Wildern '12 were hilarious as well as dramatic in the roles of the new owners of the theater. The two had superb on-stage chemistry, as shown in several scenes in which they bicker and scheme, all trying to rid their new investment of the nuisance that is the Phantom.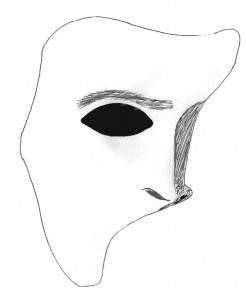 The other couple, two Italian prima donnas starring in the theater's productions, were clear audience favorites (although the audience seemed to like everything). Nick "Nill" Savinov's '12 portrayal of an overconfident Italian actor incited huge laughs from the audience. The same could be said for Elyse Croce '12, essentially a female version of Savinov's character.
Although the production was expensive, I think the audience got its money's worth. The scenes and special effects were fantastic. Effects included a sea of fog, some dang impressive lighting and, my personal favorite, a chandelier that breaks and reassembles. Special thanks go to Dan Vicary, the tech director, and his crew for creating a brilliant atmosphere.
We can't forget the minor characters. Ryan Powell '14, in particular, was an effective and hilarious actor, both as an auctioneer and an incompetent policeman. On top of that, the ballet dancers were a great addition to the show, giving a rather grim show a lighter feel at times.
So, if you couldn't tell already, I thought the show was pretty good. I suggest you go see it. If not for me and not for the cast who's worked so hard on this, go see it because it was truly exceptional. I might even have to go see the gold cast after the blue cast's stellar performance.
Times for other performances include:
 4/26, 5/5- 7:30 p.m.
4/27, 4/28, 5/4, 5/5 – 8 p.m.
4/29 – 3 p.m