By: Lily Koss '13, Staff Writer
Can art cause happiness? For senior Maggie Davison, that is just the case.
"When I view her art, I usually feel happy," said art teacher, Kit Aro.  "She is a happy girl and she creates happy art."
Davisson said she had not always been interested in art, but she always viewed herself as creative, and after taking Photography I, her interests changed.
"I just fell in love and knew that this is what I wanted to do," said Davisson.  "The teachers push us to do something new and original, and they keep pushing you to go further than we think we can go."
All together, Davisson said she has taken Photography I and II, Advanced Placement Photography, and Computer Graphics I through III.
Attending Taylor University to major in photography in the coming year, Davisson liked thier atmosphere of a smaller campus that offered a program that focused on photography as a career rather than a fine art.
"Sometimes I think that being only a photographer and not really having skills in other art departments does worry me," said Davisson. "But you just have to do what you love, even if people won't agree with it.  If you love it then that is all that matters."
Davisson's goal is to open her own studio and take wedding or senior portraits. Aro advised her to follows her goal even though it is different than most artists' goal of having deep concepts and a personal emotional message.
"Some other people might want to be more of a fine arts photographer and Maggie could do that, but she wants that polished professional portrait look." said Aro.  "She just needs to do that and not worry whether she gets recognized in the fine arts world."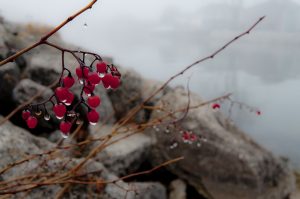 Aro said the most important role she can play as a teacher is in helping Davisson develop her artistic eye and the ability to recognize how art has an influence in visual language.
"That is not taught anywhere but in the art department," said Aro.  "Our culture is increasingly using visual language and communication, and while it is everywhere around us, few people can actually break it down; but I think Maggie can."
Aro applauded Davisson's social commentary project on negativity from parents, paralleling those who support their children, rather than knock them down.  Davisson used three different exemplifying images, and thought a lot about her use of elements and principals, Aro said.
"Her whole piece just came together as a strong and important image to view," said Aro. "It was professional and a portrait but it really bore social change and that is what I love: making art to shape the world into a better place."
However, Aro said Davisson is not usually 'gunning' for social change, and she rather captures beauty and the wonderful side of human nature.
"So much art is delving into sadder things," said Aro, "and Maggie is not like that."
Davisson said she aims at capturing emotion and personality through her photographs, and she wants people to view them as more than just a picture.
"I just what people to see that I can capture people the way they want to be captured," said Davisson.
A personal favorite of Davisson's that demonstrates her aim for capturing personality is her picture of a little, redheaded girl she was babysitting.  Davisson succeeded in capturing good color, composition, and personality in this picture.
"She is doing what is true for her," said Aro of Davisson, "which is giving a happy, upbeat and lively message."