Community members form GP Tech Yes to inform voters about tech bond
By Haley Vercruysse '16 | Staff Writer
By educating the community on the shortcomings in technology in the Grosse Pointe Public School System (GPPSS), GP Tech Yes hopes to encourage all Grosse Pointe residents to vote yes for the technology bond on Feb. 25, 2014.
"It (GP Tech Yes) is a campaign to get the word out, not just to say 'Vote yes.' We want to educate the public about these issues so that they can make an informed decision," said co-chair Laura Monahan.
A group of concerned citizens, including parents of students attending Grosse Pointe public and private schools, teachers, alum, longtime and new residents, united in early November to inform the public about the tech bond, said Monahan.
Though co-chair George McMullen said he has no children of his own or relatives attending the school district, he is a passionate supporter of the technology bond.
"If we don't have a preeminent school system with preeminent technology, my neighborhood, where I live, will not be as good in the future," said McMullen.
With two children in the GPPSS, Monahan said she became very aware of the need for upgraded technology. Her daughter, a sixth grader at Brownell, would mention how slowly the computers run in her Computer Skills course.
"I realized, as I delved into our specific problem within GPPSS, that it goes really deep and we're in big trouble as far as our technology is concerned," said Monahan. "I went to some of the board meetings and a group of people with similar experiences came together and decided this is our mission now–to educate the public on these issues–because it wasn't very obvious to Joe Smith walking down the street that there's this problem looming within our schools."
To prepare students for the future, they must be taught how to use technology, said Monahan.
"Technology is the language of the world today," said Monahan. "Our rating as a school system, if we are not giving a proper education, will plummet . . . and our reputation as a fantastic school system will be tarnished."
In turn, property values will fall, affecting the entire community, Monahan said. Aside from public safety, the highly rated school system is the reason people move to Grosse Pointe, McMullen said.
"The bad news is we have lousy technology.  The good news was no one knew we had lousy technology," said McMullen. "Everyone always assumed that, because we had high results, we had good technology. Now, this debate we're having is all public. That means, 'Hey! Grosse Pointe–they're going through this debate for a technology bond. They don't have good technology. I might be thinking about moving to Birmingham.'"
Upon approval of the technology bond, GPPSS would collaborate with the Michigan Department of Education to purchase approximately 9,000 new devices, Superintendent Dr. Thomas Harwood via Email said. Through a bid process established by the Michigan Department of Education, new devices can be purchased in bulk at a better price. Additionally, Grosse Pointe Schools would be granted a reimbursement of $100 per device, equating to $900,000 total. If new equipment is not purchased by June 30, 2014, GPPSS will not qualify for the $900,000 reimbursement check.
The refunds would be distributed in August 2014, Harwood said via e-mail. Some of the funds would finance instructional coaches to aid teachers in applying instructional technology in their classrooms.
As interest rates are at record lows and the state continues to cut federal education funding, now is the best time to pass the bond, according to a video posted to the GP Tech Yes website and YouTube channel.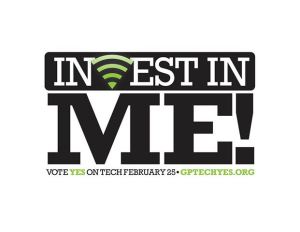 Campaigning through social media has allowed GP Tech Yes to quickly create social change, said Monahan. They are on Facebook (GP Tech Yes), Twitter (@GPTechYes) and YouTube (GP Tech Yes).
"Social change can happen in an instant when someone just tweets something," said Monahan.
On the GP Tech Yes website (gptechyes.org) are testimonials, endorsements and a video explaining why the bond should be passed, McMullen said. District resources are also available.
"It's (the website) a good one stop shop to get at least some initial information and partial information," said McMullen. "It's important, also, that an educated voter attends the school board meetings or one of the many seminars."
In-person forums have been scheduled for Tuesday, Jan. 7; Wednesday, Jan. 8; Tuesday, Jan. 14 and Thursday, Jan. 16, McMullen said.
Under the "Get Involved" tab on the GP Tech Yes website, residents can request to be listed as an endorser, volunteer to host a lawn sign, work the polls or phone bank on Feb. 25, send postcards and emails, write letters to the editor and submit a testimonial.
Donations are being accepted for things like mailers, lawn signs and buttons, Monahan said.
McMullen encourages students to spread the word about the websites available and upcoming public forums. Students can also attend school board meetings and publicly comment on the technology, McMullen said.
"There are two people that are living this: teachers, that are telling us they need new technology, and you guys (the students)," said McMullen. "You make the best appeal possible by just getting the word out and talking to your friends and family and especially the voters."