Members of boys swim team bleach hair for upcoming meets
Emily Mlynarek '14 | Staff Writer
Walking through the hallways, it's hard not to notice the group of guys with outrageously blonde hair.
It has become a tradition for the men's swimming and diving team to bleach their hair blonde before they shave their heads for the biggest meets of the season, team captain Nick Yoo '14 said.
"The team has been bleaching their hair for years," said team captain Patrick Jackson '14. "It basically indicates that the divisions and MISCA meets are coming up, and also advertises the team."
Many other teams bleach their hair as well, Jackson said. South teams bleach their hair for the MISCA (Michigan Interscholastic Swim Coaches Association) and Mac Red Division meets, whereas most other teams bleach their hair at the start of the season and keep it the whole season, Jackson said.
On Monday, Jan. 28 the team hired a professional hair stylist to bleach their hair so that they could get the right color, Jackson said.
"We all went to a team member's house and had a hair bleaching and pizza party, which made the best of it," said Jackson. "All in all, it was a fun experience."
In preparation for The MAC Red Division Championship meet on Friday, Feb. 22 the team will shave their heads on Wednesday, Feb. 20, Yoo said.
Bleaching their hair is an experience that provides a sense of unity to the team, Andrew Trost '16 said.
"You could say it's almost like a cult because it is certainly not typical for guys to bleach their hair," said Jackson.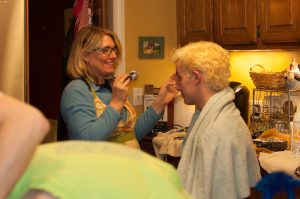 Although it is highly recommended that the whole team participate, about eight swimmers did not bleach their hair because of familial reasons, Jackson said.
"You look like a freak if you do it, but you almost look like more of a freak if you are the only one on the team who doesn't have obnoxiously blonde hair," said Trost.
Many of the swimmers have gotten mixed reactions from their peers, Trost said.
"It is always awkward at first when you show up at school, but then people realize that it's for swimming," said Yoo.
As a captain, Jackson said he tries to make it seem like it's a fun thing to do and spread the word so current freshmen are willing to bleach their hair.
"At first I thought 'Oh my gosh I'm not doing that', but it's actually not that bad," said Trost. "Now I don't mind, but I still cannot wait to shave it all off."